South Africans have been a little obsessed with the weather lately, and for good reason. We've been experiencing a drought for the past two years. But while Gauteng seems to be in the clear (for now) – the
Vaal Dam is filled to capacity
– following the abundance of rainfall over the past couple of weeks, the Western Cape – and the City of Cape Town in particular – remains thirsty.
In the Western Cape, dam levels are
sitting at 31%
, having
dropped by 1.6%
in one week. With the rainy season far away and only
120 days of water left
, the situation in Cape Town looks dire. Since October last year, there have been strict water restrictions where metros across the country. To date, Cape Town has not adhered to its target of using 700 million litres per day. The city's current usage is
837 million litres
per day.
It's important to look at the situation critically and ask if it could have been managed better to mitigate its effects because the worst thing about the impending water crisis is that the poor will suffer the most.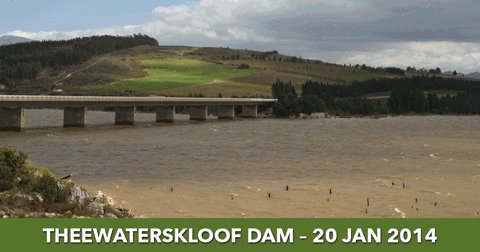 Naming and shaming campaign backfires
One of the actions taken to address the water crisis in Cape Town was a
name and shame campaign
. The DA-run City of Cape Town revealed the top 100 water guzzlers on Monday. In the top 10, is a number of wealthy areas like Constantia, Bishop's Court, and Tokai. These are likely people who have sprawling lawns and big, blue swimming pools to fill with the earth's most precious resource.
Upon further investigation, it appeared that some of the consumers on the list had serious leakages. The number one consumer of water in Crawford was billed for over 700 000 litres in a month. That amount of water is enough to fill 10 average-sized swimming pools. It was revealed that two elderly people lived in this residence which had neither a garden nor a pool. Instead, a
water pipe had burst
last month and this reflected on the bill.
So the top water user in Cape Town has an underground leak? And our water department didn't pick that up?

@CityofCT

is incompetent
But second on the list was a location in Manenberg – one of Cape Town's poorer communities. Manenberg has no sprawling lawns or pools either. What Manenberg does have is leaking pipes. The resident who lived at the address, Martha Thuysma, 64,
told The Daily Voice
that her water meter is so faulty she turns her water off to stop her house from flooding.
Sasol's manager of sustainable water, Andries Meyer, said local municipalities are
losing almost half of their water
in leakages because their infrastructure is old and badly maintained. This means that water losses are as high as 30% to 60%.
In his radio show on Thursday,
Heart FM radio presenter Aden Thomas
criticised the name-and-shame campaign as œdisingenuous. He said the list did not provide water consumers with any context – what the normal level of consumption is or even action taken by authorities to correct the situation. Thomas said he was disappointed with the City's response because he feels that they should have gone above and beyond. He questioned whether it had done everything, whether it had prioritised the accounts of those who had been using exorbitant amounts of water.
Why so slow to fix the problems?
There should be greater urgency in dealing with the matter. Even if it was just one leak, considering that it is impossible to manufacture water, it needs to be prioritised and dealt with. Apart from the situation falling on the shoulders of Mother Nature, there is a service delivery issue here. Worse is that the poor will suffer – and that is just symptomatic of ongoing DA policy.
Capetonians are recycling their bathwater and using it to top up their toilet systems, water their pot plants or their gardens. Has the City taken into account how abnormal the situation is and done everything to address it?
According to a
report by EWN
, municipal officers are engaging with Cape Town's top water users. According to the City of Cape Town, none of the residents had reported any water leakages. But that excuse simply is not good enough. When data shows that a single residence is using enough water to fill up to ten swimming pools, the City needs to take the issue more seriously. Regional head at the Water and Sanitation Department, Rashid Khan, was also baffled by the City's approach. It cost a lot of money to reduce wastage, but it doesn't take away from the manager's going to water users to find out what's going on, he said.
What's worse is that the DA is always bragging about how well-run their metros are. In their vision,
they say
, Where we govern, we have delivered the country's best performance scores in education, health, service delivery and clean governance.
Pull yourself together, City of Cape Town
This speaks to how the DA runs the Cape Town metro in general. The party's past actions would suggest that it prioritises the needs of the rich over the needs of the poor. We see that with the
gentrification of spaces like Woodstock
, Observatory, Salt River, and Zonnebloem, where poor folk are evicted to create larney spaces for the rich to sip on superfood smoothies and buy artisan bread. It's similar with the Cape Town deployment of police; there is a greater
police presence in Camps Bay than in Nyanga and Khayelitsha
.
It is imperative that the City of Cape Town does more to address the water crisis. Who is going to suffer when the water runs out? While the rich will be rushing to the nearest Woolworths to get a five-litre bottle of water, it is the poor that will remain landless – and now waterless.
 Featured image via

Pixabay
Shaazia Ebrahim
https://www.thedailyvox.co.za/the-da-should-take-responsibility-for-cape-towns-water-crisis-shaazia-ebrahim/